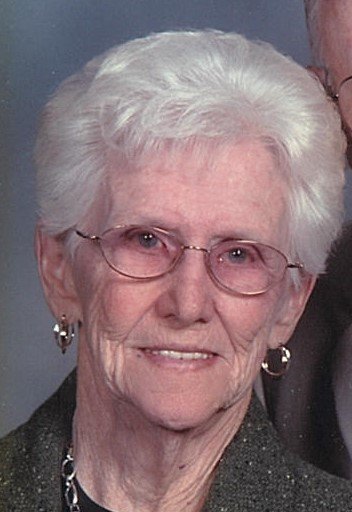 Obituary of Melba Austwick
Melba L. Austwick, 91, of Carlinville, passed away Saturday morning, August 11, 2018 at Heritage Health Care in Carlinville, IL.
Melba was born on November 5, 1926 to Lewis and Edith (Killam) Brown in Carlinville, IL. On November 14, 1946 she married K. Lendell Austwick in Carlinville, IL.
After graduating from Hettick High School, Melba obtained a degree from Browns Business College in St. Louis, MO. She was a farmwife and a homemaker. Melba worked in the advertising department for the Democrat newspaper in Carlinville. She also was the receptionist for Dr. Thomas Huson for many years. Later in life she was employed by the Carlinville School District as a librarian assistant at West School. Melba loved crocheting, reading, and spending time with her grandchildren. She was very active in her church, Charity Baptist Church in Carlinville.
Melba is survived by two daughters, Connie LeVora of Carlinville, IL, and Vicki (Nate) Halteman of Carlinville, IL; granddaughter, Jaime (Dave Gaydos) Halteman of Yorkville, IL; two grandsons, J.R. (Andrea Hearn) LeVora of Carlinville, IL, and Nathan (Bridget Goon) Halteman of Lombard, IL; two great-granddaughters, Kristilyn LeVora and Genevieve Gaydos; great-grandson, Caius LeVora; sister-in-law, Virginia Brown of Carlinville, IL; brother-in-law, Zane Austwick of Carlinville, IL; several nieces and nephews.
Melba was preceded in death by her parents, husband, a granddaughter, Christy Lynne LeVora, and her brother, Paschal Brown.
Visitation will be held Wednesday, August 15, 2018, from 4:00 pm - 7:00 pm at Davis-Anderson Funeral Home in Carlinville, IL.
Funeral services will be held on Thursday, August 16, 2018, at 10:00 am at the Charity Baptist Church in rural Carlinville, IL, with Rev. Justin Reynolds , officiating.
Burial will take place in the Charity Cemetery, followed by a time of food and remembrance at Harvest Hall.
Memorials are suggested to the Charity Baptist Church.