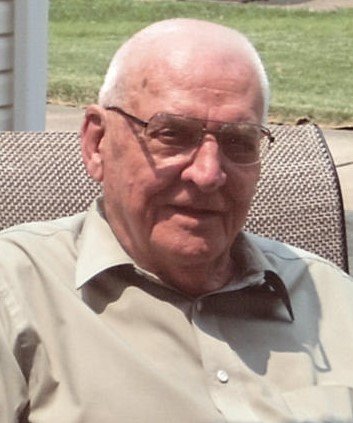 Obituary of William Pranger Sr.
William J. "Bill" Pranger Sr., 92 of Carlinville, passed away Tuesday, July 31, 2018, at Carlinville Area Hospital in Carlinville, IL.
Bill was born September 26, 1925, in Carlinville, IL, a son of William W. and Clara (Schoettler) Pranger.
Bill graduated from Carlinville High School with the class of 1943. Bill married Dorothy Formea on February 4, 1948 at St. Mary's Catholic Church in Carlinville, IL and were married for 63 years before her death in 2011.
He was a gunners-mate GM2C on LST 571 Pacific Theater during World War II in the Navy. Bill was employed by the U.S. Postal Service from 1950 to 1980. He served on the local volunteer Fire Department for 40+ years. He was a member of the Knights of Columbus and a longtime member of the VFW and American Legion Post # 554. He enjoyed hunting and the outdoors.
Visitation will be held on Tuesday, August 7, 2018, from 9:00 am to 11:00 am at Ss Mary and Joseph Catholic Church, Carlinville, IL.
Funeral Services will be conducted at 11:00 am, Tuesday, August 7, 2018 at Ss Mary and Joseph Catholic Church, Carlinville, IL.
Burial will follow in New Calvary Cemetery, Carlinville.
Bill is survived by son, Bill (Rachel) Pranger, Jr. of Carlinville, IL daughters, Cathy (Steve) Stone of Carlinville, IL, Barb (Bob) Rusciolelli of Sherman, IL, Jan (Brad) Jett of Hillsboro, IL, Carol (Mike Hughett) Pranger of Batavia, IL, 10 grandchildren, and 9 great grandchildren.
Memorials may be made to Ss Mary and Joseph Catholic Church.
Please visit www.davisandersonfuneralhome.com to leave condolences or light a candle in memory.
Davis-Anderson Funeral Home, Carlinville is in charge of arrangements.