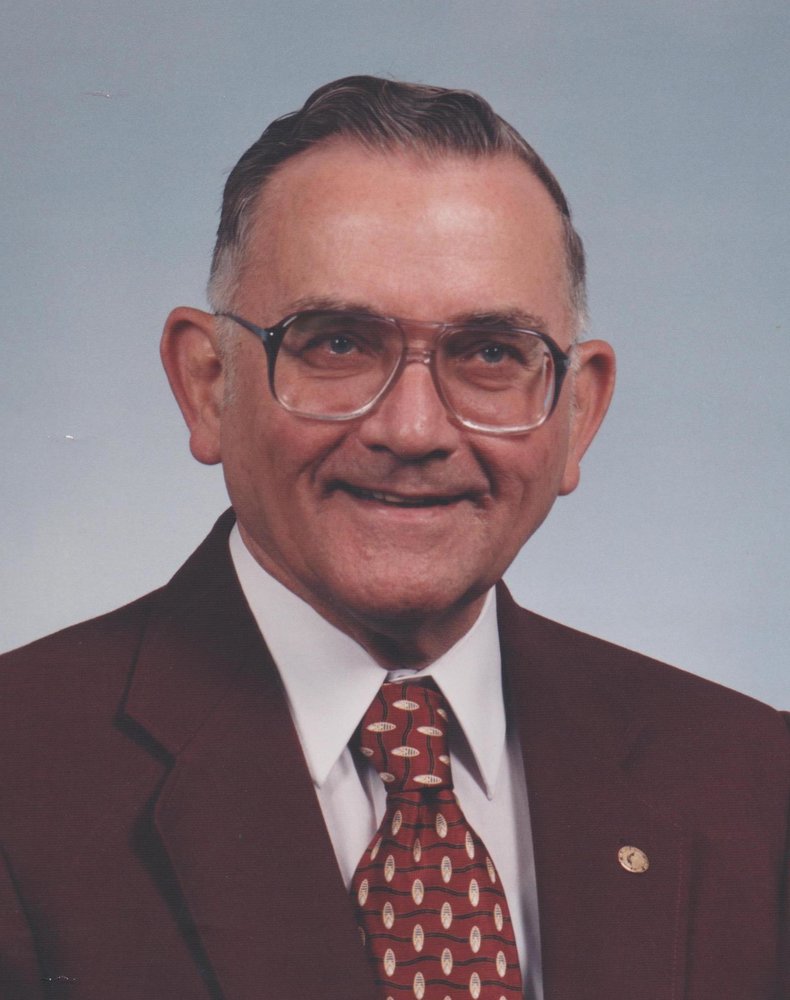 Obituary of Robert Sabo
Rev. Robert Eugene Sabo Sr., 85, of Carlinville, passed away Thursday morning, July 12, 2018 at his residence in Carlinville, IL.
Robert was born on December 17, 1932 to Paul and Elizabeth (Toth) Sabo in Granite City, IL. On May 24, 1952 he married Martha McNeely in Louisville, GA.
Following attendance at Granite City High School where he participated as a wrestler, Pastor Bob enlisted in the Air Force serving during the Korean Conflict. He played the trumpet in the 114 Air Force Marching Band. Upon the completion of his military service, he worked for IBM for six years. He then attended and graduated from Valdosta State College and Emory University with his Masters of Divinity degree.
While in college Pastor Bob began his ministry as a local pastor in the Methodist Church. He was ordained an Elder in the Methodist Church in 1962. He served churches in South and North Georgia Conferences. In 1964 he transferred to the Central Illinois Conference and pastored several churches until he retired from the Carlinville United Methodist Church in 1997. He continued to serve churches in retirement, preaching his final sermon May 13, 2018.
Pastor Bob served the communities where he lived. He was a pastor to the people. He never met a stranger. He officiated at weddings and funerals too numerous to count. He served for 12 years as Chaplin for Hospice and many years as Chaplin for the Legion Post. He was a member of the Masonic Lodge and other community groups.
His love for the trumpet and his nation called him to play taps for many who served in the military. Because of his love for music, he played in the Carlinville Municipal Band for many years. He was an avid St. Louis Cardinals fan and loved attending games.
Robert is survived by his wife, Martha Sabo of Carlinville, IL; son, Bob (Barb) Sabo Jr. of Watseka, IL; four daughters, Donna Smith of Bloomington, IL, Tammy (Todd) Popham of Crescent City, IL, Teresa (Lou) Alvarez of Aurora, CO, Michelle (Jake) Gregory of Brookfield, WI; 11grandchildren, Jennifer Logsdon, Latrisha Butler, Jamie Sabo, Shenna Kunz, Amie Smith, Alexandria Alvarez, Daniel Alvarez, Rodney Popham, Abigal Alvarez, Elena Gregory, Danielle Gregory; 10 great grandchildren; two brothers, Harold (Nancy) Sabo of Granite City, IL, and Charlie (Pat) Sabo of St. Louis, MO; sister, Emma (Dick) Portell of Granite City, IL, as well as several nieces and nephews.
Robert was preceded in death by his parents; brothers, Paul, Teddy, Arthur, John, and Frank Sabo; sisters, Irene Brooks, Pauline Craycraft, and Betty Courtright, 3 grandchildren, Jake Gregory, Martha Ann Gregory, and Ellen Smith, and 1 great grandchild.
Visitation will be held Monday, July 16, 2018, from 4:00 to 7:00 pm at Carlinville United Methodist Church, Carlinville, IL. Masonic Rites will follow at 7:00 pm.
Funeral services will be held on Tuesday, July 17, 2018, at 10:00 am at the church with Rev. Rex Hendrix officiating.
Burial will take place in Mayfield Memorial Park Cemetery in the Mausoleum of Valor.
Memorials are suggested to Preacher's Aid Society, American Cancer Society, or the Pulmonary Hypertension Association.
Online condolences can be given at www.davisandersonfuneralhome.com.
Davis-Anderson Funeral Home, Carlinville is in charge of arrangements.