Recommend Catherine's obituary to your friends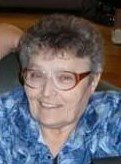 Obituary of Catherine W. Dean
Catherine W. Dean, 76, of Mattoon, passed away Wednesday morning, August 7, 2019 at her residence in Mattoon, IL.
Catherine was born on November 28, 1942 to Harold and Emma (Roberts) Wright at La Place, IL. On November 8, 1959 she married Harold Dean in Arthur, IL. He preceded her in death on December 9, 2015.
Catherine worked for Hydro Aire, manufacturing aircraft parts in California for over 10 years. She retired from The Arthur Home in Arthur, IL in 1999 where she had worked as a CNA. Catherine was a member of Arthur Southern Baptist Church, enjoyed western movies, cross stitching, and spending time with her family and grandchildren.
Catherine is survived by two sons, Terry (Robin) Dean of Quartz Hill, CA, and Charles Dean of Sunrise, FL; three daughters, Laurie (Jerome) Brothers of Mattoon, IL, Susan (Brian) Dyer of Arthur, IL, and Jennifer Kamm of Nilwood, IL; 17 grandchildren and 23 great grandchildren.
Catherine was preceded in death by her parents; husband; two sisters; a brother, as well as a great grandson.
A Celebration of Life Service will be held at Arthur Southern Baptist Church in Arthur, IL on Friday, August 9, 2019 from 4:00 to 6:00pm. Arthur Southern Baptist Church is located at 530 North Vine Street, Arthur, IL, 61911.
Private graveside services will be held at a later date in Girard Cemetery, Girard, IL.
Memorials are suggested to Donate Life or American Diabetes Association.
To send flowers to the family of Catherine Dean, please visit Tribute Store
Interment Information
Girard Cemetery
Address not given
Girard, Illinois, United States