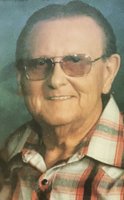 Amos L. Barnhouse
Amos L. Barnhouse, 65, of Creston, Iowa died Monday, November 27, 2017 at the Greater Regional Hospice Home – HCI in Creston, Iowa.
Amos Leroy Barnhouse, son of Bonnie L. (Burris) Hughes and Stanley N.C. Hughes, was born on May 18, 1952 in Muncie, Indiana. He was educated in Muncie schools.
In 1972, Amos married Billie Jean Stouffe in Illinois. They lived and worked in the Illinois, Indiana, Colorado and Iowa. Together, they had a son, Michael. Amos and Billie Jean later divorced.
On February 2, 2000, Amos married Peggy Rose Kelly in Osceola, Iowa. They lived most all of their married life in the Creston area. Amos worked at truck driving, construction, tree trimming, the production of wire harnesses for Dekko in Afton and at farm work. He became disabled in later years.

Amos was a member of the Church of Jesus Christ of Latter Day Saints in Lenox. He was also a member of the National Rifle Association. Amos loved children and his fur babies (dogs/cats).
Survivors include his wife, Peggy Barnhouse; a son, Michael (wife Heather) Barnhouse of Virden, Ill.; a step-daughter, Victoria Lee of Bellevue, Neb.; two step-sons, Jason Watson of Fairbury, Neb. and Matt Niepert of Creston; 9 grandchildren; Austin, Derrick, Kaylee, Michaeh, Zackery, Ethan, Emily, Christian and Jaycee; and 1 great Grandson, Mark; two brothers, Brent (wife Sandy) Hughes of Auburn, Ill. and Stanley "Oddie" (wife Sheila) Hughes of Waverly, Ill.; and two sisters, Brenda (William "Butch") Stouffe of Girard, Ill.; and Jacki (husband Scott) Cloyd of Anderson, Ind.; a cousin, Jim Goodman of Corning; and many nieces, nephews and other family.
Graveside services will be held Saturday, December 2, 2017, 11:00am at Waverly East Cemetery, Waverly, IL with Rev. Anthony Miller officiating.
Amos was preceded in death by his parents, his second wife Carmen (Woods) Barnhouse and his grandparents.
Memorials may be directed to the family.
Davis-Anderson Funeral Home Girard is in charge of arrangements.