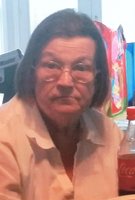 Patricia Jean Jones
Patricia "Patty" Jones, 64 of Chatham, formerly of Carlinville passed away Saturday afternoon, November 25, 2017, at Lewis Memorial Christian Village in Springfield, IL.
Patty was born July 21, 1953, in Carlinville, IL, one of ten children born to Gerald and Donna Jean (Brown) Jones.
Patty graduated from Carlinville High School with the class of 1972.
Patty was preceded in death by her father, Gerald Jones, mother, Donna Jean Jones, sister, Jeri Lynn Jones.
Patty's career spanned over 20 years in food service. She had worked for several area nursing homes in Carlinville and most recently at Lewis Memorial Christian Village
She enjoyed coin collecting, tennis, watching football and was a die hard Cub fan. Patty was dedicated to her job, helping family and co-workers in what ever they might need.
Her favorite pass time was listening to the Beatles.
Visitation will be Saturday, December 2, 2017 from Noon to 2:00pm at Davis-Anderson Funeral Home in Carlinville, Il, where Funeral Services will be at 2:00pm with Pastor David Harmon officiating.
Burial will follow in Mayfield Memorial Park Cemetery, Carlinville.
Patricia is survived by her sister, Carolyn (Chet) Allen of Rockford, IL, sister, Teresa Blunt of Tulsa, OK, sister, Laurie Jones of Chatham, IL, sister, Kristin Scholes of CA, brother, Gerald (Christy) Jones of Carlinville, IL, brother, John Jones of Boston, MA, sister, Melinda Campbell of Staunton, IL, sister, Peggy (Ali) Imran of Tokyo, Japan, several nieces and nephews.
Memorials may be made to American Cancer Society.
Please visit www.davisandersonfuneralhome.com to leave condolences or light a candle in her memory.
Davis-Anderson Funeral Home, Carlinville is in charge of arrangements.